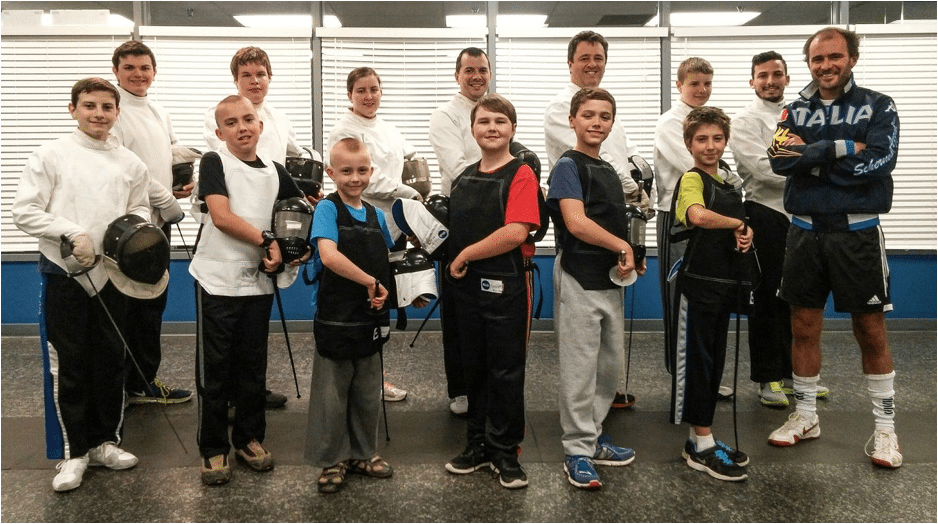 Beginner's Courses:
$100 Introductory Fencing Course (Group Lessons): The introductory course is comprised of six (1 hour long) sessions of group instruction. The course will introduce you to the basics of modern Italian foil fencing. All equipment is provided. (ages 6 – adult). $15 discount for police, fire, and military veterans.
NEW! $100 Theatrical Fencing Course
In this class, we will examine the works of prominent fight choreographers Bob Anderson (Highlander, The Princess Bride, Star Wars) and William Hobbs (Rob Roy, The Three/Four Musketeers, The Duellists). This class is targeted towards theater students and anyone interested in sword fight choreography. We will cover basic techniques, sword safety, how to tailor the fight to the character, and aspects of creating realism in a fight. This is a 6-hour hands-on course where you will practice choreographed fights as well as choreographing your own fight to be filmed and critiqued. All equipment provided.
$80 Introductory Lesson Package (Individual): This package consists of four 30 minute introductory lessons with the instructor. Equipment is provided. (ages 11 – adult)
Group Classes:
$70 Monthly Membership Dues: Does not apply to students enrolled in a beginner's course. Monthly membership dues include 2 hours of group lessons and 2 hours open fencing a week.
Individual Lessons:
$25 Per Individual Lesson (foil/sabre/épée): Available by appointment. Individual lessons (30 min) are with Coach Fisher
Open Floor Fee:
$10 Open Floor Fee Usage: For visiting non-members with their own equipment.
NOTICE: All fees are non-refundable.
Class Attire:
T-Shirt – Fencing Knickers or Athletic Pants (ex. warm-up, sweatpants, no jeans, no shorts) – Athletic Shoes – Water Bottle – Sweat Towel
Payment Options:
You may pay in advance with a credit card via PayPal (secure online payment), or in person by cash or check (please make checks payable to Bowling Green Fencing Academy). Payment is due by (or on) the first night of beginner's courses. Regular monthly dues MUST be paid no later than the 3rd of each month.
Practice Hours:
Mondays 6-7 pm (Member Group Lessons / Kids Class)
Wednesdays 6-7 pm (Member Group Lessons)
Fridays 6-7 pm (Kids Classes)
Proud Affiliate of Adrian Paul's: